Green Cryptocurrency Bioma Token is gaining popularity as an Amazon Forest preserver.
Bioma Token is dedicated to the preservation of the Amazon Forest.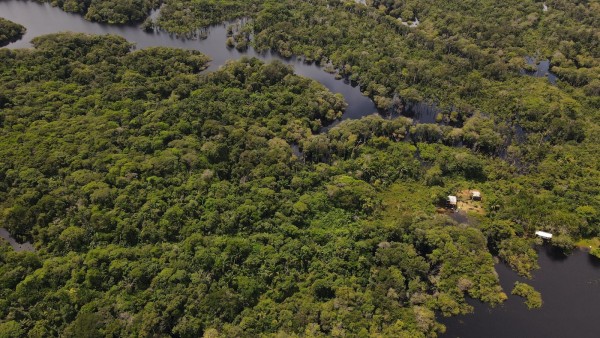 (Aerial image of the Bioma eco project's own lands)
Recently, Bioma Token released itself as the first cryptocurrency of its kind dedicated to the maintenance of the Amazon Rainforest. Since its birth, this unique cryptocurrency has been rapidly growing among crypto enthusiasts and nature lovers.
The Amazon rainforest is estimated to be worth US$1.83 trillion per year*. It's there that 20% of all freshwater on the planet, 50% of biodiversity and 17% of the world's carbon storage. The Amazon is essential in combating climate change on a global scale and its financial value has increased exponentially in recent years given the scarcity and finitude of this natural wealth.
The Bioma token brings a new era of disruption to the decentralized economy, providing an original value proposition. Bioma Eco uses drone technology to map and georeference areas of native forests in the Brazilian Amazon. This activity is carried out using high-resolution images and satellite images, which helps to ensure the accuracy of the preservation process.
This Token can be purchased by small and large investors so that they can safeguard their piece of preserved forest. As the token will be designed in BSC (Binance Smart Chain), a blockchain developed by the cryptocurrency exchange Binance which has a validation mechanism that requires minimal emissions cost, this will be an easy way for individuals to contribute to the preservation of the environment.
As people and businesses purchase Bioma Tokens, they show their support for forest conservation, while also contributing to initiatives that work to reduce greenhouse gas emissions. Preserving the diversity of Amazonian plants and animal life through these projects will allow the forest to flourish and play an essential role in the planet's ecosystem.
The Bioma Eco Project, which promotes ecotourism and works to preserve forests, has acquired land in the Brazilian region of Acajatuba/Amazonas, as stated in the white paper that accompanies the project.
The first quarter of 2023 is defined as the launch window for the project and, in addition to the Bioma Token, the company presents the Bioma Eco Lodge project, located in the heart of the Amazon rainforest, allowing guests to fully immerse themselves in its protected preservation area.
Learn more about the Bioma Token at https://bioma.eco
For updates, follow Bioma Token on Instagram: https://www.instagram.com/bioma_eco/
About Bioma Token
With its launch, the Bioma Token became an unprecedented token, backed by the preservation of the Amazon Rainforest. Each Biome Token Unit represents 1 Inch of preserved forest. The Bioma incorporates forest areas in the Brazilian Amazon, with all georeferencing done using drones to carry out mapping with high-resolution images and satellite images. By offering this unique value proposition, the brand invites individuals to invest and trade in the token on the Binance marketplace.
Media Contact
Company Name: Bioma Eco Project
Email: Send Email
City: Manaus
State: Amazon
Country: Brazil
Website: bioma.eco/