Elite Elevators' Certified Home Lifts Assure Elevated Living
European safety code compliance and German technology are just the tip of the iceberg that makes Elite Elevators' home lifts the most sought-after.
Pune, India – Elite Elevators is a home elevator company headquartered in Chennai, India. They have tied up with the German home elevator brand TK Access Solutions to bring world-class home mobility solutions to Indian homes. The company offers premium home lifts and stairlifts to residences in India Malaysia, UAE, and Australia. Their home lifts are TÜV SÜD certified and are imported directly from their partner's facility in Pisa, Italy.
Elite Elevators' vertical transportation range has been extensively researched, cleverly designed, and manufactured to the highest European standards. Safety is the ultimate priority of this residential lift company. Even though there is no national regulatory body for home lifts, the company follows strict European home safety guidelines. Their home elevators comply with machinery directive 2006/42/EC, European Norm 81-41, and have a Safety Integrity Level (SIL) 3 certification.
As for their product range, it is ingeniously designed with first-of-its-kind technology with the singular aim of offering users a luxe experience. The company caters to the varying requirements of clients, offering a home mobility solution for every need.
"We offer home lifts for modest homes, bungalows, luxury villas, estates, and low-rise buildings. Our home lifts are built with innovative German technology and are environmentally conscious, secure and 100% Vaastu compliant. Designed to give users a sophisticated experience, our home lifts are necessary additions to spaces where comfort and luxury cohabit," says a spokesperson for Elite Elevators. "Our end-to-end services are tailored to afford our clients an unmatched experience – from the moment they send inquiries to our speedy installation services. We have an experience center located at the Pallazo Condominium in Pune as our product range is meant to be witnessed first-hand for one to truly gauge a fraction of its might."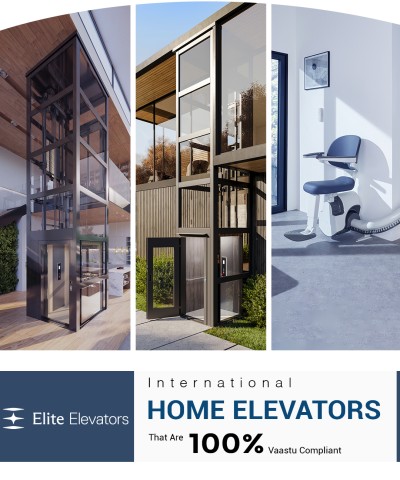 Every product has been engineered to perfection so users get an elevated experience. The Altura Diamond and Platinum home elevators' innovative drives and 14 patented technologies are game-changers. The former operates on an enhanced hydraulic drive while the latter operates on the original and patented Cog Belt drive – both pioneered by TK Access Solutions.
The Altura range lends users unparalleled performance as their operation is quiet, smooth, and fast. They use the patented greaseless rail technology that prevents the formation of grease, thereby cutting down on maintenance frequency and increasing their lifespan. These home lifts do not require a pit, machine room, or headroom and consume approximately 1.45 kW of electricity.
The Flow X stairlift offers users independence, safety, and comfort. It is especially suitable for the elderly as it requires minimal effort to operate and is safe to use unsupervised. Flow X runs on the patented Advanced Swivel and Levelling (ASL) technology – another original creation from TK Access Solutions. It is battery-powered and reliable during a power failure.
About Elite Elevators:
Elite Elevators is an Indian home mobility company with its head office in Chennai, Tamil Nadu. The company provides home lifts, stairlifts, platform lifts, gearless home elevators, and hydraulic lifts to residences across the country. Elite Elevators is the authorized global partner of TK Access Solutions, a division of TK Elevator, one of the world's leading manufacturers of premium home mobility products. Engineered in Germany and made in Italy, their home lifts can be customised to meet each client's individual needs. Elite Elevators has a global presence with operations in Australia, Malaysia, and the UAE. For more information, visit www.eliteelevators.com
Visit the experience center at:
Elite Elevators
Shop No. 1, Pallazo Condominium,
Besides Wisdom World School,
Amanora DSK Road,
Pune, Maharashtra – 411 028
Media Contact
Company Name: Elite Elevators
Email: Send Email
Country: India
Website: https://www.eliteelevators.com/