Next Generation Sequencing Market To Record A CAGR Of 14.4% By 2028, Due To Growing Automation In The Pre- & Post-Sequencing Protocols And Data Analysis | Grand View Research, Inc.
According to a new report published by Grand View Research, the utilization of novel platforms for the development of personalized medicine at a genetic level is also a significant factor, which is expected to boost the demand for NGS over the forecast period.
Next Generation Sequencing Industry Overview
The global next generation sequencing market size was valued at USD 3.99 billion in 2020 and is anticipated to reach USD 11.7 billion by 2028, at a CAGR of 14.4%.
Genome sequencing has been used to understand the spread of Covid-19 and has the potential to understand the impact of interventions and help guide treatments in the future. Covid-19 Genomics U.K. Consortium (COG-U.K.) was formed in March 2020 to analyze the coronavirus genome using Whole-Genome Sequencing (WGS). The consortium includes Wellcome Sanger Institute, the NHS, Public Health Agencies, and other academic institutions. These groups have collaborated to map the evolution and spread of the virus.
Gather more insights about the market drivers, restrains and growth of the Global Next Generation Sequencing market
The consortium is also focused on deciphering the transmission chain of the virus so that the spread can be stopped. Researchers at the University of Liverpool have also carried out sequencing analysis to analyze the unique genetic code from samples collected from different individuals.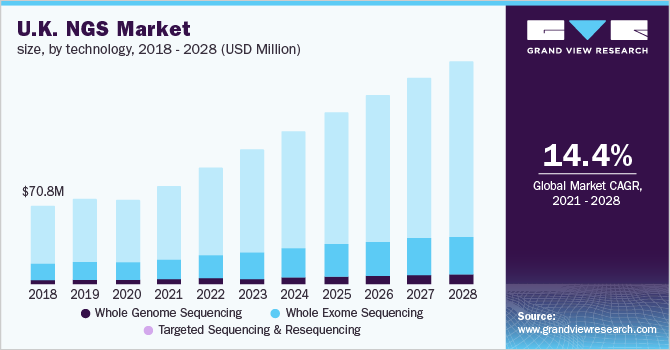 Companies, such as ThermoFisher and Illumina, have also geared up to fight this pandemic with the help of sequencing. Illumina has already provided support and technology to conduct surveillance and track transmission. The company also aims to develop vaccines and therapies to ensure long-term global security and safety.
The global market is highly competitive. Major industry participants are collaborating with other companies to increase the use of their platforms for research as well as diagnostics use. For instance, in January 2021, Illumina announced multiple oncology partnerships with Merck, Myriad Genetics, Kura Oncology, and Bristol Myers Squibb to expand the utilization and reach of its TruSight Oncology pan-cancer assay.
Next Generation Sequencing Market Segmentation
Based on the Technology Insights, the market is segmented into WGS, Whole Exome Sequencing and Targeted Sequencing & Resequencing.

Targeted sequencing & resequencing dominated the NGS market in 2020 with a revenue share of over 73%. The technology offers economical alternatives for WGS and facilitates the in-depth investigation of genomic regions.
The WGS technology is anticipated to grow at a significant rate from 2021 to 2028. A rise in the use of WGS to combat Covid-19 is attributed to segment growth.
Based on the Application Insights, the market is segmented into Oncology, Clinical Investigation, Reproductive Health, HLA Typing/Immune System Monitoring, Metagenomics, Epidemiology & Drug Development, Agrigenomics & Forensics and Consumer Genomics.
Oncology accounted for the largest revenue of over 28% in 2020. Next generation sequencing (NGS) coupled with bioinformatics tools holds potential in revolutionizing oncology research, diagnosis, and treatment.
Leading companies, such as Illumina, are constantly working toward the development of NGS-based In Vitro Diagnostic (IVD) solutions for cancer diagnostics.
Based on the Workflow Insights, the market is segmented into Pre-Sequencing, Sequencing and NGS Data Analysis

The sequencing segment accounted for the dominant revenue share of more than 54% in 2020 as sequencing is a critical step of the workflow. In addition, sequencing is a capital-intensive procedure and thus accounts for a higher revenue generation.
With an expected increase in the implementation of WGS, the subsequent data generation from sequencing projects is expected to grow. Due to the large volumes of data generated after sequencing, analysis becomes a challenge.
Based on the End-use Insights, the market is segmented into Academic Research, Clinical Research, Hospitals & Clinics, Pharma & Biotech Entities and Other Users

The academic research end-use segment held the largest share of more than 53% in 2020. The segment is projected to expand further at a steady CAGR from 2021 to 2028.
Clinical research is expected to be the fastest-growing end-use segment from 2021 to 2028. This can be attributed to the rising penetration of NGS-based diagnostic tests that are CLIA-waived and under the process of clinical approval augmenting the demand for NGS solutions.
Based on the Regional Insights, the market is segmented into North America, Europe, Asia Pacific, Latin America, and Middle East & Africa

North America dominated the global market with a revenue share of 49.77% in 2020. The presence of several clinical laboratories that use NGS to offer genetic testing services drives the regional market.
Asia Pacific is expected to be the fastest-growing regional market from 2021 to 2028. The presence of local companies, such as BGI Genomics, and NGS service providers including First BASE Laboratories Sdn Bhd, Macrogen Asia Pacific Pte Ltd., and others is expected to drive the market in the Asia Pacific.
Browse through Grand View Research's Biotechnology Industry Related Reports

Biomarkers Market– The global biomarkers market size was valued at USD 51.18 billion in 2020 and is expected to grow at a compound annual growth rate (CAGR) of 14.2% from 2021 to 2028. The increasing prevalence of chronic diseases, advancements in the techniques used for the development of biomarker-based diagnostics, and the growing geriatric population are the key factors projected to boost the market growth over the forecast period.
Sequencing Reagents Market – The global sequencing reagents market size was valued at USD 4.5 billion in 2018 and is expected to register a CAGR of 13.7% over the forecast period. The market is benefitted by constant developments in sequencing technologies to provide higher throughput data for large-scale genomic research.

Market Share Insights:
January 2021: Cerba Research launched two new; PCR-based and NGS-based; Covid-19 exploratory tools to support R&D for vaccine development against infectious diseases, including Covid-19.
January 2021: To support the Covid-19 surveillance and research, Thermo Fisher Scientific extended its SARS-CoV-2 GlobalAccess Sequencing Program to offer additional units of Ion GeneStudio S5 sequencer and Ion Torrent Genexus System at a subsidized rate.

Key Companies Profile:

The industry is marked by high competition between the dominant players. Strategies adopted by these companies to enhance their market presence include the launch of novel platforms that are rapid, small-sized, and less expensive.
Some prominent players in the global Next Generation Sequencing market include:
Illumina
QIAGEN
Thermo Fisher Scientific, Inc.
F. Hoffman-La Roche Ltd.
Oxford Nanopore Technologies
Genomatix GmbH
PierianDx
DNASTAR, Inc.
Eurofins GATC Biotech GmbH
Perkin Elmer, Inc.
BGI
Bio-Rad Laboratories, Inc.
Order a free sample PDF of the Next Generation Sequencing Market Intelligence Study, published by Grand View Research.
About Grand View Research
Grand View Research is a full-time market research and consulting company registered in San Francisco, California. The company fully offers market reports, both customized and syndicates, based on intense data analysis. It also offers consulting services to business communities and academic institutions and helps them understand the global and business scenario to a significant extent. The company operates across multitude of domains such as Chemicals, Materials, Food and Beverages, Consumer Goods, Healthcare, and Information Technology to offer consulting services.
Web: https://www.grandviewresearch.com
Media Contact
Company Name: Grand View Research, Inc.
Contact Person: Sherry James, Corporate Sales Specialist – U.S.A.
Email: Send Email
Phone: 1888202951
Address:Grand View Research, Inc. 201 Spear Street 1100 San Francisco, CA 94105, United States
City: San Francisco
State: California
Country: United States
Website: https://www.grandviewresearch.com/industry-analysis/next-generation-sequencing-market