Perimeter Security Market To Witness Commendable Growth At 9.4% CAGR By 2030, on Account of Rising Development of Smart Cities And Infrastructure | Grand View Research, Inc.
According to a new report published by Grand View Research, the increasing incidences of crime, such as personal crime, data theft, smuggling and human trafficking, have led to the need for perimeter security systems; thereby boosting the perimeter security industry growth.
Perimeter Security Industry Overview
The global perimeter security market size was valued at USD 59.21 billion in 2021 and is expected to reach USD 132.4 billion by 2030, registering a CAGR of 9.4% over the forecast period.
The increasing threat of terrorism and cross-border intrusions has forced governments to impose stringent standards pertaining to the safety of nations, resulting in market growth. A rise in the development of smart cities and infrastructure is the key factor driving the market. Government support for implementing different security systems at critical locations is on the rise. Technological advancements in the field of automation have resulted in the rapid adoption of the latest techniques, such as video analytics and aerial drones to provide better results.
Gather more insights about the market drivers, restrains and growth of the Global Perimeter Security Market
With the growing safety concerns among people, manufacturers have come up with new multilayered perimeter protection solutions. Some of the technologies that are gaining popularity are electronic fencing with sensors and infrared and integrated fiber-optic intrusion detection systems. Perimeter security systems find applications particularly at national borders, military & defense sectors, government offices, commercial domains, banks, correctional sites, and other huge industrial plants in various segments.
Recent years have witnessed a tremendous rise in illegal activities, breaches of security systems, planned crimes, and terrorism activities. This has led to increased awareness among citizens as well as industries and governments. As a result, various security systems are deployed at different locations in an attempt to strengthen security. However, the increasing cost of implementing these systems is estimated to hinder the growth of the market. Moreover, improving the reliability of the systems is a challenge for all manufacturers.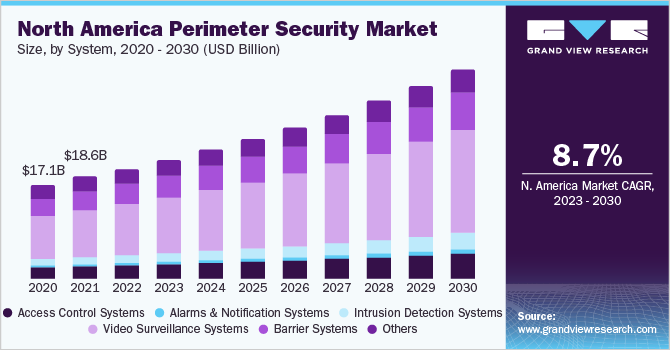 Perimeter Security Market Segmentation
Based on the System Insights, the market is segmented into access control systems, alarms & notification systems, intrusion detection systems, video surveillance systems, barrier systems active barriers and others
The software video surveillance systems segment dominated the industry and accounted for the highest share of more than 45.5% of the global revenue in 2021. Video surveillance systems are estimated to emerge as the fastest-growing type segment in the market owing to the increasing focus on the continuous capturing of images and complete safety.
The segment mainly comprises video cameras, CCTV cameras, video analytics, and smart video devices that can be linked to more than one device. The ease of installation of video surveillance systems and their myriad applications are resulting in their increased adoption across the globe.
Video surveillance solutions deter revenue loss from stolen merchandise, vandalism, and destruction of valuable information among others. The video surveillance systems include alarm systems and wireless home security systems that notify law enforcement agencies at the time of trouble.
Based on Service Insights, the market is segmented into system integration & consulting, risk assessment & analysis, managed services and maintenance & support
System integration and consulting services are gaining traction among security system providers and the segment accounted for the maximum share of more than 51.00% of the global revenue in 2021. The integration of various security systems provides the controller with more accurate information and enhanced decision-making power.
System integration and consulting services help businesses with streamlined & optimal functional workflow, access to real-time data, and effective performance of business operations. The adoption of cutting-edge technologies, such as IP-based security cameras for remote access, motion sensors, and wireless technology, is driving the industry forward.
The risk assessment & analysis services are estimated to grow at a very fast pace over the forecast period. Managed security services are increasingly used by large organizations as they find it easier to outsource the entire security system, thereby identifying loopholes in the security of crucial information and preventing intruders from accessing their company premises.
Based on the End-use Insights, the market is segmented into government, military & defense, transportation, commercial, industrial and others
The military and defense segment dominated the global market in 2021 and accounted for the maximum share of more than 25.5% of the global revenue. The increasing population and growing shopping & outing trends, along with the presence of large entertainment hubs at various locations, have led to the emergence of a vast application for perimeter security systems.
The transportation end-use segment is expected to grow at the fastest growth rate from 2022 to 2030. This growth is attributed to a wide scope of product applications in railways, freight cars, and cargo vehicles to protect the valuable assets on board.
Government sites and offices are increasingly adopting perimeter security systems and this segment is expected to witness substantial growth over the forecast period. These systems are widely used to detect any intrusion into the restrained facility. Also, these systems ensure the safeguarding of privately owned land or an industrial facility.
Based on the Regional Insights, the market is segmented into North America, Europe, Asia Pacific, Latin America, and Middle East & Africa
North America region dominated the global market in 2021 and accounted for the largest share of more than 31.00% of the global revenue in 2021 due to the presence of technology hubs in the U.S. and continuous R&D in the field. The increased use of the Internet of Things (IoT) in the region is expected to contribute to regional market growth.
The Asia Pacific region is anticipated to witness the fastest growth on account of the developing infrastructure and stringent government measures regarding the safety of nations. Military & defense, transportation, oil & gas, chemical as well as other industries and key infrastructures and nuclear facilities, are also major contributors to the market growth.
The Asia Pacific is expected to emerge as the fastest-growing regional market over the next six years. The increasing incidences of crime, such as personal crime and data theft, in the Asia Pacific region, have led to the need for perimeter security systems; thereby boosting the market growth.
Market Share Insights:
April 2019: Thales acquired Gemalto, an international digital security company based in the Netherlands. This acquisition equipped Thales Group with a larger product portfolio to become a global leader in digital identity and security.
May 2016: Hikvision acquired U.K.-based intrusion alarm specialist Pyronix. This acquisition will give Hikvision a foothold in an entirely new sector of the security hardware industry.
Key Companies Profile:
Key players are focusing on increasing their customer base to gain a competitive edge in the market and these players are adopting various strategic initiatives, such as mergers & acquisitions, partnerships, integrating with other firms for particular technologies, and new product development.
Some of the prominent players in the global perimeter security market include:
Axis Communications AB
Barrier1 Systems, Inc.
Optex, Inc.
Honeywell International, Inc.
Tyco International Ltd.
Puretech Systems
Senstar Corp.
Delta Scientific Corp.
RBtec Perimeter Security Systems
Cias Elettronica Srl
Order a free sample PDF of the Perimeter Security Market Intelligence Study, published by Grand View Research.
About Grand View Research
Grand View Research is a full-time market research and consulting company registered in San Francisco, California. The company fully offers market reports, both customized and syndicates, based on intense data analysis. It also offers consulting services to business communities and academic institutions and helps them understand the global and business scenario to a significant extent. The company operates across multitude of domains such as Chemicals, Materials, Food and Beverages, Consumer Goods, Healthcare, and Information Technology to offer consulting services.
Web: https://www.grandviewresearch.com
Media Contact
Company Name: Grand View Research, Inc.
Contact Person: Sherry James, Corporate Sales Specialist – U.S.A.
Email: Send Email
Phone: 1888202951
Address:Grand View Research, Inc. 201 Spear Street 1100 San Francisco, CA 94105, United States
City: San Francisco
State: California
Country: United States
Website: https://www.grandviewresearch.com/industry-analysis/perimeter-security-market