UpsellMaster WordPress Plugin to boost Upsells for WooCommerce Stores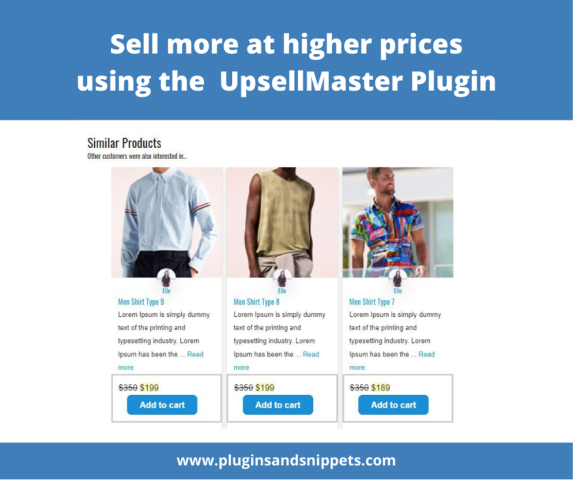 Plugins & Snippets has released its latest WordPress plugin for WooCommerce and Easy Digital Download Store users: UpsellMaster. Their developers put nearly one year of development into this project to change how Upselling is done for Webstores using WordPress.
Upselling today is one of the most widely used sales strategies in eCommerce because it is relatively quick to implement and typically pays for itself. Upselling refers to suggesting products tailored towards the customer's interest and placed in suitable locations to get the customers to add additional products to the shopping cart or exchange for higher-priced products.
The primary challenge many WooCommerce stores today face is implementing a good Upsell Strategy and maintaining and optimizing this sales strategy over time. In particular, the following challenges are essential to address when optimizing Upselling in the long-term for online stores:
Identifying suitable Products – Customers will only add products to the cart if they meet a customer's interests. If the customer is interested in trousers, sometimes it can be a waste of time suggesting to add travel bags. Better to suggest other types of trousers or shirts which can easily complement the outfit. Therefore, the secret sauce in Upselling is how to choose relevant products as new product suggestions to the visitor. Today, many WooCommerce stores still select products for upselling manually, which creates much administrative work. If you run a webstore with hundreds of products and update your products daily, keeping up with such changes for Upselling becomes nearly impossible when doing this manually. Your Upsell strategy performs below its potential, and the store owner leaves money on the table.
Placing Upsells at the wrong spots – Insufficient placement opportunities. Many WordPress plugins only offer widgets to insert on a few pages, such as the product or checkout page. Upselling can and should be done on other pages whenever there is an opportunity to offer complementary products, increasing the chances of selling something.
Result Tracking – To measure the effectiveness of an Upsell Strategy, it is essential to track the sales results from Upsells properly. Many WordPress plugins using WooCommerce and Easy Digital Downloads are still unable to do this properly. We know what product combinations work best and where to place the upsells by measuring the sales performance.
One-Click Philosophy and Tracking Sales Results from Upsells
To address these challenges, Plugins & Snippets developed the UpsellMaster Plugin that uses a data-driven algorithm to automatically calculate suitable Upsells for each product via a 1-Click Calculate All button. Upsells and also Recently Viewed Products can be displayed easily on nearly all pages of a WordPress-based eCommerce store in the form of Carousels, Lists, Widgets, Shortcode, or Gutenberg Block.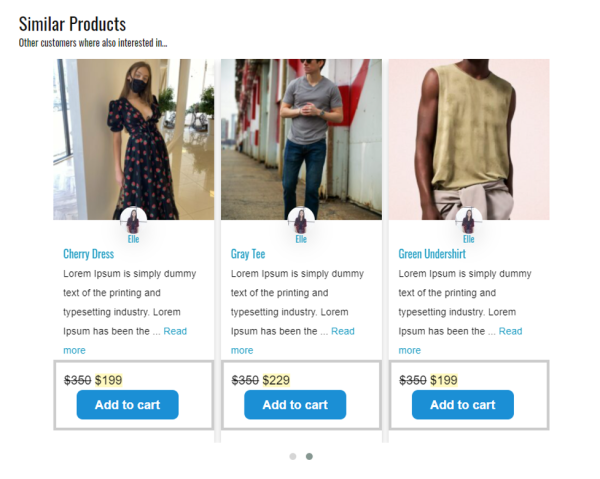 The Upsell calculation algorithm ensures that the best suitable Upsells are selected for each WooCommerce store product. The product selection follows a consistent logic as per the defined Upsell strategy. UpsellMaster WordPress plugin offers flexibility to adjust the algorithm settings to quickly test and adapt new Upsell strategies to enhance Upsell sales results on an ongoing basis. The plugin comes with an entire comprehensive reporting dashboard that tracks the sales results from Upsells and offers tons of filters to discover a pattern and analyze Upsell sales results in great detail. The UpsellMaster plugin can be used both in WooCommerce and Easy Digital Downloads web stores. It offers an essential tool to increase their Average Order Values and create additional revenues from Upselling.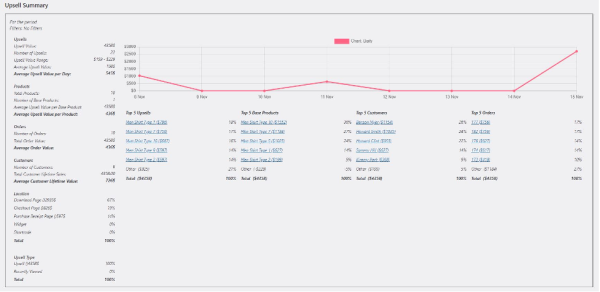 The main advantage of the UpsellMaster WordPress plugin is that an implementation typically offers a quick Return on Investment (ROI) for a functioning webstore as the focus lies on increasing sales with existing products through upsells but implemented in the right way. The developers from Plugins & Snippets spent countless hours testing and fine-tuning this plugin so that Upselling in WooCommerce and Easy Digital Download stores can bring your store to the next level: https://youtu.be/R-CvcjfGBSg
About Plugins & Snippets
Plugins & Snippets is a WordPress plugin developer specializing in developing plugins that enhance the sales conversion of WooCommerce and Easy Digital Downloads web stores. The international team of developers possesses many years of plugin development experience and successfully runs its own web stores. Therefore, the plugins focus on solving real problems webstore owners face today and offer practical solutions for enhancing sales results.
Media Contact
Company Name: Plugins and Snippets
Contact Person: Media Relations
Email: Send Email
City: Jasdan
Country: India
Website: https://www.pluginsandsnippets.com