Rapid Digitization in Corporate Sector To Drive E-Signature Demand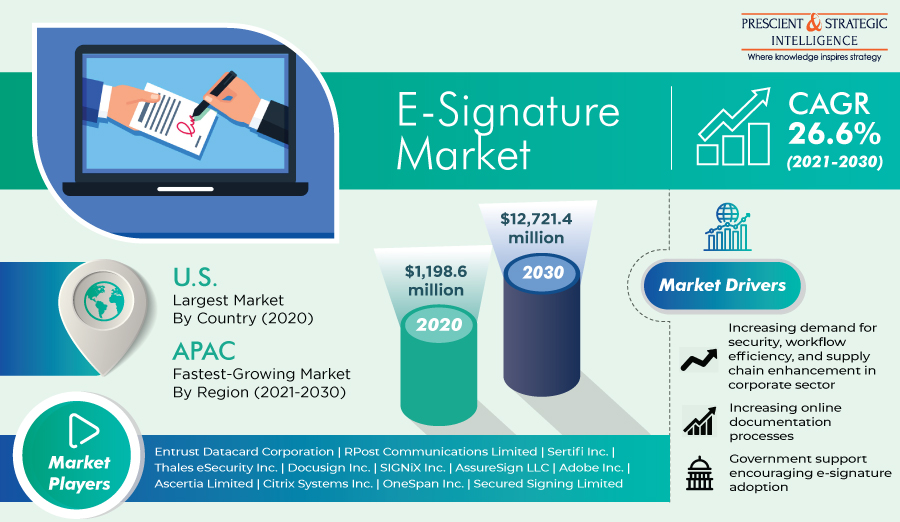 The global e-signature market is predicted to witness a 26.6% CAGR during 2021–2030 by P&S Intelligence.
As enterprises are transferring their businesses to the cloud, it has become essential for organizations to shift from wet signatures to e-signatures. The rising deployment of cloud technology and mobile banking transactions, especially during the COVID-19 pandemic, is escalating the need for multi-channel security solutions and improved user experience across all sectors. Moreover, the escalating frequency of cyberattacks, owing to the vulnerabilities attached to cloud technology, will encourage enterprises to adopt advanced security solutions, such as e-signatures, in the coming years.
Additionally, the rapid digital advancements being made in the corporate sector will fuel the e-signature market at a CAGR of 26.6% during 2021–2030. The market revenue stood at $1,198.6 million in 2020 and it is projected to reach $12,721.4 million by 2030. The surging digitization in the corporate sector has accelerated the need for online document authentication, owing to which, enterprises are deploying e-signature solutions as they offer security and authentication to online businesses. Such identity and access management (IAM) solutions also improve cash management by automating the payment and transaction processes.
Download report sample at: https://www.psmarketresearch.com/market-analysis/e-signature-market/report-sample
Currently, e-signature solution providers, such as Secured Signing Ltd., Thales eSecurity Inc., eSign Genie, Zoho Corporation Pvt. Ltd., Adobe Inc., Citrix Systems Inc., Glykka LLC, Entrust Datacard Corporation, Gemalto N.V., KeepSolid Inc., RPost Communications Ltd., Symtrax Holdings Inc., SignaShare, and GetAccept Inc., offer clickwrap, username and pin, voices signature, signature pads at point of sale (POS), and public key information (PKI) solutions for several end-use industries. At present, end users are preferring PKI solutions over other e-signatures because they guarantee the authenticity of the signer and document in a cost-effective and secure manner.
At present, the solution providers are introducing a wide range of new and improved solutions to reach out the customers from the banking, financial services, and insurance (BFSI), legal, information technology (IT) and telecom, government, and healthcare sectors. For instance, in May 2021, Entrust Datacard Corporation launched its remote signing service (RSS) solution to enable trust for widely distributed workforces. These solutions enable trust by integrating high-insurance and verifiable employee signature capabilities into workflows and document applications.
According to P&S Intelligence, North America dominated the e-signature market in the recent past, due to the surging use of e-signatures for mitigating online fraud incidents in the region. Owing to the increasing cyberattack incidents, the BFSI sector in this region is increasingly adopting such IAM solutions. Moreover, the mounting investments being made in advanced technologies by various end-use industries are also augmenting the requirement for e-signature solutions for quality control and increased productivity in the region.
Browse full report at: https://www.psmarketresearch.com/market-analysis/e-signature-market
Thus, the escalating use of cloud platform in business organizations and growing digitization in the corporate sector will accelerate the use of e-signature solutions in the forthcoming years.
Market Size Breakdown by Segments
Based on Component
Software
Hardware
Service
Based on Deployment Type
Based on Type
Public Key Infrastructure (PKI)
Username and Pin
Signature Pad at POS
Clickwrap
Voices Signature
Based on Use Case
Unmediated
Mediated
Third-Party
Internal
Based on Vertical
Banking, Financial Services, and Insurance
Government
IT & Telecom
Healthcare
Legal
Geographical Analysis
North America
Europe

Germany
France
U.K.
Italy

Asia-Pacific

Japan
China
India
Australia

Latin America
Middle East and Africa
Browse Other Reports
Digital Signature Market
Geographically, North America accounted for the largest share in the digital signature market, due to the rising cases of online frauds in the BFSI sector in the region. Additionally, the implementation of government policies, such as the Government Paperwork Elimination Act (GPEA) in the U.S., also contributes to the market growth in the region.
Certificate Authority Market
The Asia-Pacific certificate authority market is expected to register the fastest growth in the forecast years, due to the mushrooming number of online businesses, rising adoption of internet of things (IoT) technology, and increasing digital transformation.
Media Contact
Company Name: P&S Intelligence
Contact Person: Abhishek
Email: Send Email
Phone: +918887787886
Address:Noida Sector 2
City: Noida
State: UP
Country: India
Website: https://www.psmarketresearch.com/market-analysis/e-signature-market