Jesus Rode a Dinosaur Prepares Second Compilation Album
Evil, in Diana is the second release from the record label, Jesus Rode a Dinosaur. It features seven songs by artists signed to the label, and an 8th song featuring Emmy Award Winner, Matthew Madonia. The eight song compilation album is executive produced by label owner, Groove Kennedy.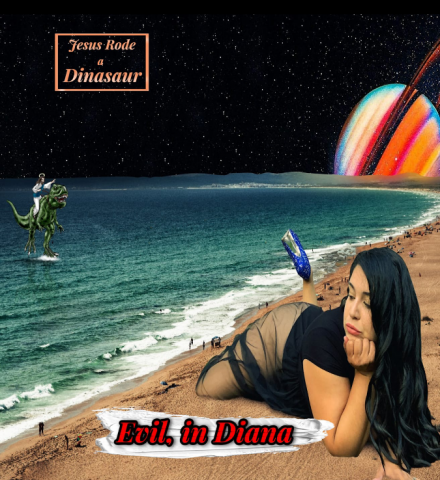 Evil, in Diana, is an eclectic mix of songs in different genres including rock, blues, rap, and pop. The lead single, "Bubblegum" which premiered last week on AllHipHop.com was a trending sound on the music app, Tik Tok. The song along with the hashtag #bubblegumgroove has over 100,000 unique views, and the song hit the top ten of two world markets on iTunes including the top five in South Africa.
Spoken word artist, Matthew Madonia, who isn't signed to the label, won an Emmy Award for his spoken word and has been seen on HBO, CW, BET, and heard on major radio stations such as Power 96, features on a track with London singer, Madame Stir Krazy. Mrs. Stir Krazy was the first artist to sign to the label. Madonia is reciting a poem originally written by rapper Michael Barber about his hometown of Evansville, Indiana. The song was originally written by Barber as a poem, and was later produced by Josh Tifer into the song, "Pain Pills and Cornfields." This updated version of the song is a remake of the hit song, "Send in the Clowns" which was made famous in the 1970s by Frank Sinatra and Judy Collins.
The Londoner, Stir Krazy, also appears on the first song on the album which is a remixed cover of Dreams by Fleetwood Mac titled, "Fleetwood Dreams." Groove Kennedy provides new hip hop-esque drums to the track while Stir Krazy hits the notes made famous by Stevie Nicks.
Label ace, Ce N'est Rien, joins the party for his new song, "One Less City, One Last Town." The song has a gritty, grunge sound reminiscent of something out of Seattle in the mid-90s. The voice and harmony will be stuck in your head for days.
The album features an instrumental track from Tampa based producer, Gay Enola Gay, a snippet from the rap group, Grey Lady Ghost, and a label newcomer, Banner Johnson. Banner Johnson is a blues artist from North Carolina, whose song "Smoke" is produced by DJ Brown and gives the album and label a certain depth unseen by most startup labels.
The album includes appearances from New York rappers, Neezy Noe and Jazmin Blue, along with rapper P Stew. P Stew provides a silky smooth delivery over the song, "Right Now" which fits right in with what a listener might hear on any urban top 40 station across the country.
The full eight song album, Evil, in Diana is now available via Bandcamp or online at www.JesusRodeaDinosaur.com
The album is available on Bandcamp https://jesusrodeadinosaur.bandcamp.com/album/evil-in-diana
#JesusRodeADinosaur #GrooveKennedy #Music
Media Contact
Company Name: Jesus Rode a Dinosaur
Contact Person: Rachel Rhodes
Email: Send Email
Country: United States
Website: http://www.jesusrodeadinosaur.com/